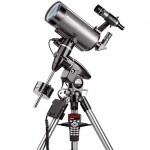 Orion SkyView Pro 127 GoTo Mak-Cass Telescope
Here's a telescope for the enthusiast who appreciates the practicality of a compact scope, yet wants the best features and performance available for the money. The Orion SkyView Pro 127 GoTo Mak-Cass Telescope comes with fully motorized GoTo computer control! After a simple alignment, a push of a button or two on the GoTo hand controller automatically points the telescope to one of 13,400+ celestial objects in its database. Dual stepper motors on the mount slew the telescope at a brisk 3.4° per second, centering your target right in the eyepiece. Easy!
The GoTo system consists of a computerized hand controller and two stepper motors that attach to the SkyView Pro telescope mount. What can you see with your Orion SkyView Pro 127 telescope? With intuitive menus and easy-to-use pushbutton controls, the GoTo system allows you to locate and track any object in its database of 13,400+ celestial objects including the entire Messier and NGC catalogs. You can use the GoTo controller to take a guided tour of the night sky or to pinpoint celestial highlights for the month. The GoTo hand controller requires an external 12-volt power source.
The SkyView Pro (SVP) 127′s high-resolution 5″ optics and 1540mm focal length (f/12.1) excel for high-magnification study of the lunar surface and planets. And it's got enough aperture to display excellent astroimages of a wide variety of deep-sky jewels. The optical tube assembly is just 14.5″ long, making it wonderfully portable and easy to stow.
The Orion SkyView Pro 127 EQ mount provides fluid motion and a solid stance.
If you are new to astronomy and aren't familiar with where things are in the sky, then this is the best telescope for you! And the best part? You get to show others just how much of an astronomy expert you are when you can tell them the name of the object being viewed!